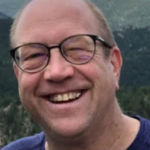 Steve Toalson
Steve is an agile coach that loves to see others have their 'ah ha' moments. He's always passionate, as you will see, and enjoys using his booming voice to communicate that passion.
While Steve currently works with a national agile services company, his roots are here in Kansas City. He got his agile start at Hallmark Cards, learning and then teaching others about the benefits that an agile mindset brings.
Working independently, Steve shared his agile passions with folks in Topeka, KS (Westar Energy and FHLB Topeka) and then spent some time at KC's own Cerner Corp.
Steve currently facilitates the AgileKC meet-up (which meets monthly on the 4th Thursday each month (DING!)) and is involved in several other local agile groups. It's these connections that brought Steve to us in our first year at LeanAgileKC as our MC. And, as they say, the rest is history…..