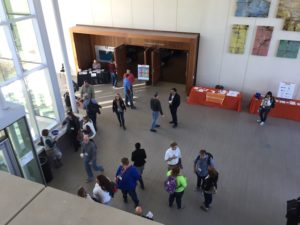 Lean Agile KC is the only conference in Kansas City devoted to Lean and Agile learning. The conference features a wide range of topics like Lean UX, DevOps, coaching agile teams, culture, and organizational change.
What is the format?
LAKC is a two day conference at the KU Edwards Campus, Nov. 5-6, 2019.  There are three major content components: traditional sessions, deep dives, and Open KC (a modified Open Spaces session that consist of informal discussions in an open setting). The Open KC event allows a unique opportunity for sponsors to engage with attendees and speakers.
This will be a different sponsorship opportunity than typical conferences. Instead of driving attendees to a booth or table, we encourage sponsors to engage naturally with our attendees and speakers through the available collaborative space. In fact, there will not be sponsor booths or tables available. Sponsors will have the opportunity to show their support for Lean and Agile methods by participating in the sharing and learning.
Who will attend?
Attendees and speakers are engineers, testers, analysts, project managers, product managers, executives, ScrumMasters, Product Owners and entrepreneurs who care about Lean and Agile. These are the change agents who make Agile work in their workplace. If the conference sells out (and we expect it will), the total number of attendees and speakers will be 250+.
In short, Agilists attending this conference will be the local and regional practitioners who care enough about their craft to take time to share and learn from their peers.
Why Sponsor?
Once a year, Lean-Agilist in the Kansas City region gather to talk and learn about their craft. Sponsoring this event puts your name in front of practitioners who are influencers in their work places.
Sponsorship includes:
Company listing on conference home page from the time of signup and for a minimum of three months after the conference
Company logo on printed conference event schedule
Company logo displayed during the breakfasts, lunches, and happy hours
Space on the Sponsor Table for printed material (up to two 8.5″x 11″ pieces)
Does not include event admission. Conference attendees must purchase admission ticket separately
Sponsorship Terms and Rules
Sponsorship Signup
By submitting the LAKC Sponsorship signup form, your organization is committing to sponsoring the conference. Confirmation will be sent via electronic invoice to the email address submitted.
Sponsor Payments and Refunds
Sponsorship benefits will not start until full payment has been received. There will be no refunds. In the event of inclement weather, or other emergency that causes the conference to be postponed, a make-up event will be scheduled. All sponsorships will transfer to the make-up event.
Day of Event – Less tradition, more engagement
This event is designed to be light on the traditional sponsor experience, and heavy on attendee engagement. We encourage our sponsors to step out of the traditional booth mindset and engage with the attendees and speakers in the breakout and Open KC sessions, over coffee, at lunch and during Happy Hour. Sponsor Table is limited to two pieces of printed material no larger than 8.5″x 11″. Please, no promotional product beyond this limit.
Contact
Questions? Contact Troy Tuttle for more information on securing your sponsorship: info@leanagilekc.com
Dates
Sponsorship submissions are due by October 25, 2019.
Sponsorship payments immediately upon acceptance.